Year 1/2
Welcome to

Murray

Class 2017-2018

Well, we have come to the end of a very busy term and school year. We hope you all enjoy the summer holiday and look forward to welcoming the new year 1 children into the classroom to join the children in year 2.



-----------------------------------
Term 5
Please click here to visit our topic web.
We have had a very exciting day today (13.04.2018)! We had the final day of our Bristol and Brunel topic, where we went on a trip around Bristol visiting some of Brunel's masterpieces.
We began by visiting, and walking over, the Clifton Suspension Bridge, then on to the SS Great Britain. Here, we had a guided tour, a picnic and some explore time around the new Brunel museum.
Some pictures from our day are below.
We are in the last week of our Brunel and Bristol Topic, so Murray Class made some top hats (like Brunel's hat) to help inspire us.
Term 4
Please

click here to find out what we are learning this term.
Although this term is only short, we have a lot packed in!
Year 2 have worked really hard over the past month or so to perfect a dance to perform at Bath Forum to well over 1000 people. All children really pulled the performance out the bag on the night (13.03.18). It was fantastic, and brilliant to see such great support from all the parents. I thoroughly enjoyed my first Dance Umbrella!
As we had some warmer weather this week (w.c. 12.03.18), we took advantage of the outdoors for some of our maths lessons. Learning different ways of measuring lengths.
On Wednesday the 15th of March, we had a Science workshop where we learnt lots about space and the history of our relationship with space.
World Book Day (01.03.2018) was a great excitement. We all came in for the morning in the snow dressed up as a character from a book. Our theme was Outer Space. We created a short performance of a poem as a class.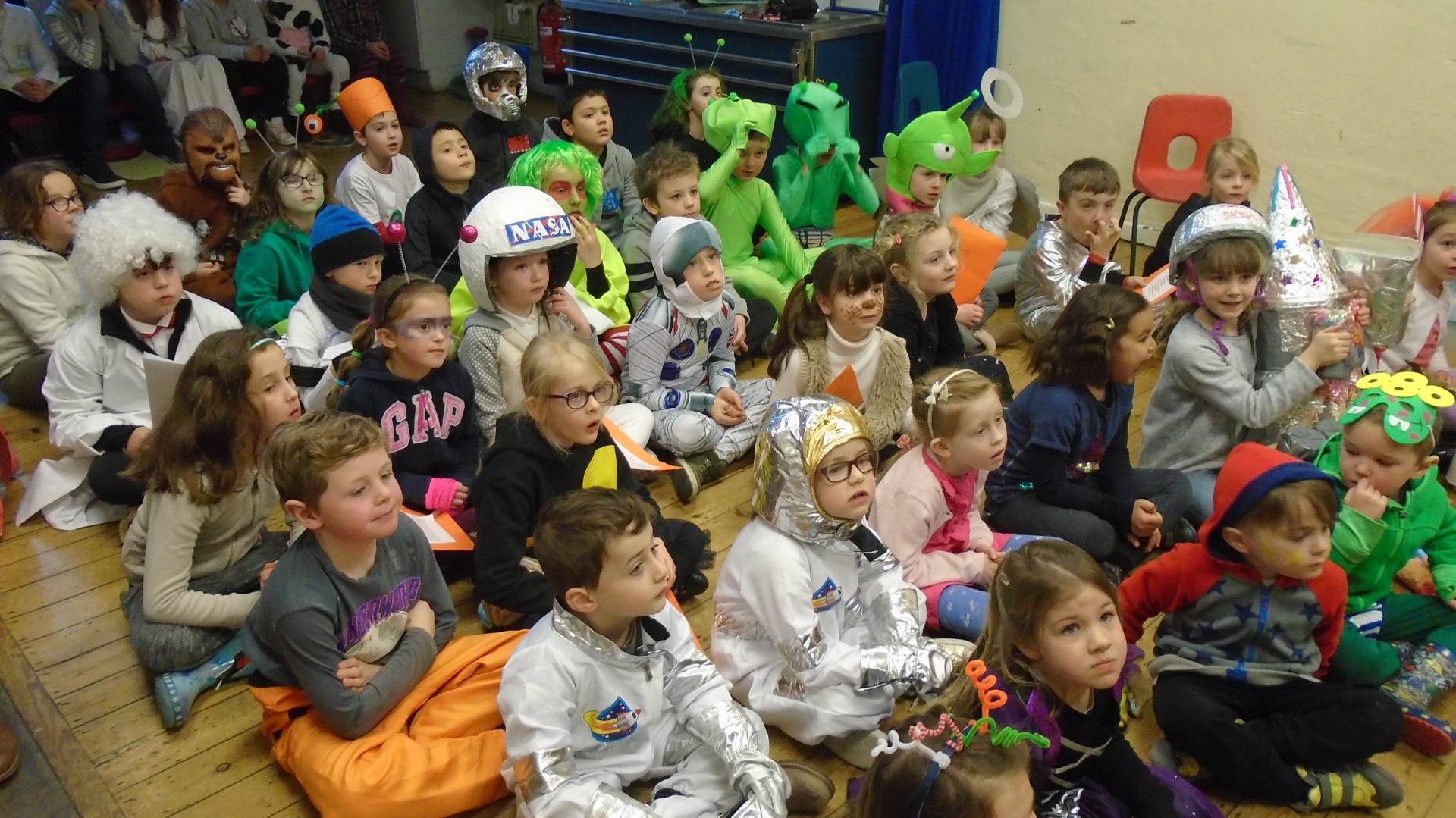 We have started learning about our new topic 'Bristol and Brunel'. We began this by looking at designing, making and evaluating our own bridges.
We had a fantastic and very funny story-teller in our class for a workshop about creating and telling stories to interest and excite the reader. This was a brilliant morning.
Please also remember that Year 2 homework should be handed in on a Wednesday. Thank you for all your hard work at home with the reading challenge and the homework.
Term 3
Topic: Space
Please click here to visit our topic web.



In term 3

, we are very excited to be exploring space as our topic for the term. We have had a great first few days back in Murray Class where we have been investigating how people in history have found out about space and identified what questions we would like to find out over this term.


Term 2
Topic: My Brilliant Body / Nativity
Please click here to visit our topic web.
Learning about parts of the body and the skeleton:
Challenge Time - great team work and problem solving!
The children worked in groups to read instructions and make cakes with a healthy twist:
Money! Money! Money!
Nativity
Well done to Year 1, Year 2 and Reception Class for an excellent Nativity performance at The Egg, Theatre Royal, Bath.
You all worked so hard and were amazing!
Term 1
Topic: Animals around the world
Please click here to visit our topic web.
Week 1
The children are familiarising themselves with their new environment and making new friends.
Week 2
Art
Experimenting with colour in preparation for paintings in the style of Eric Carle.
Science.
This week in Science the children grouped animals according to various classifications e.g. mammal, reptile, amphibian, fish and birds.
English
Comparing fiction and non fiction texts.
Maths
We have been focusing on place value this week, ordering numbers to 100, thinking about tens and units and using symbols to represent greater than and less than.
Week 3 Pet Week
This week we were delighted to welcome cats, dogs, sea monkeys and a hamster into the classroom. Thoughtful questioning from the children provided inspiration for next week's writing task - an information book on pets. We would like to say a huge thank you to parents for all their support this week.
Place value has been our focus in maths lessons over the last three weeks. The children displayed their knowledge when challenged to work together to count 2000 paper straws. Firstly grouping straws into bundles of ten and then counting in tens to make piles of 100. Then combining piles of one hundreds to make a total of 2000. Congratulations to all Murray class for amazing team work!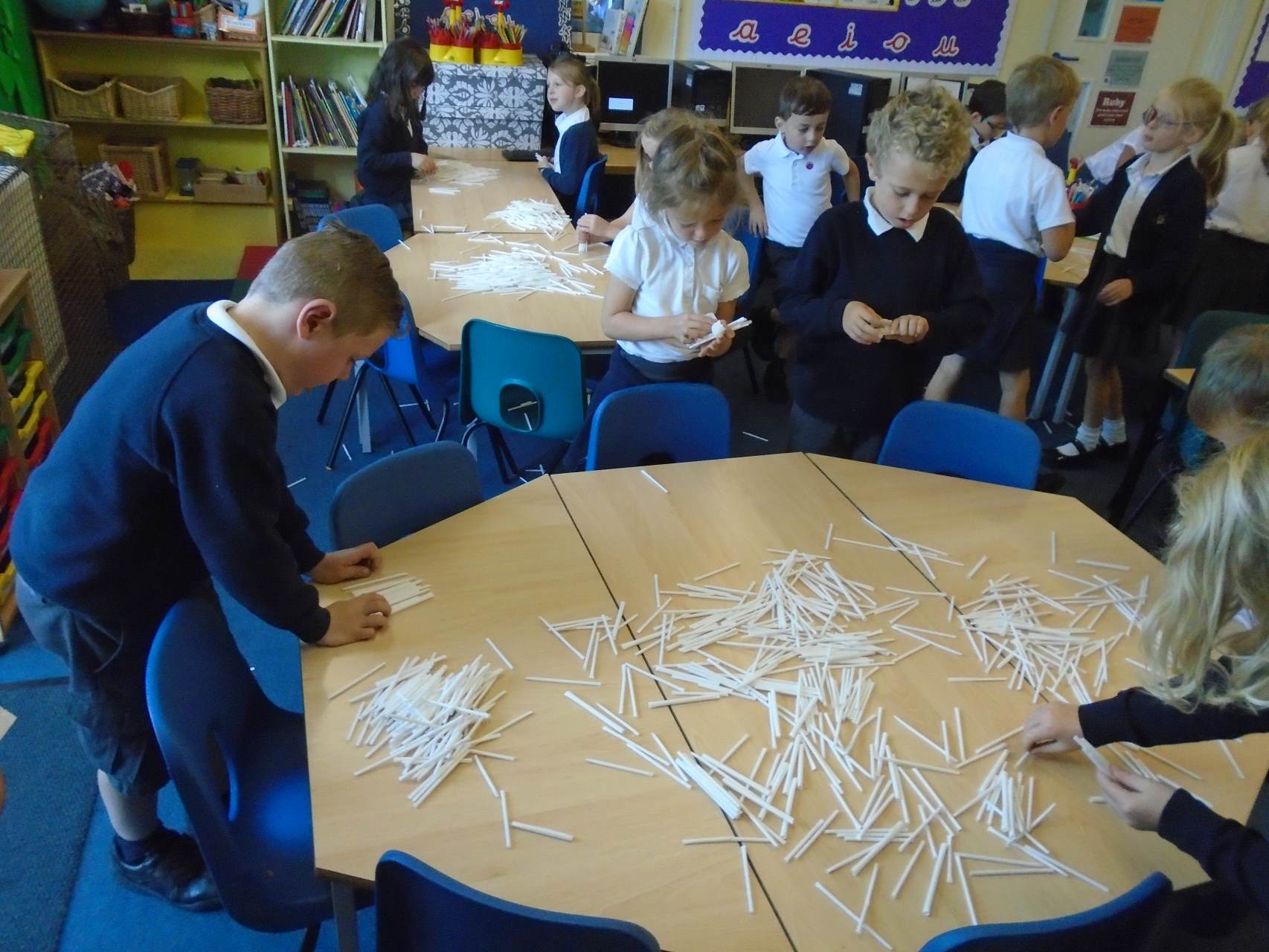 Week 5
Here Be Dragons Exhibition at the Victoria Art Gallery
Reception, Year 1 and Year 2 had a very successful trip to the Victoria Art Gallery in Bath this week. Children were encouraged to look at the different paintings and through discussion make comparisons about the their appearances and characters.
A huge thank you to all the children for their exemplary behaviour during the trip.
Important information:
Children will need their PE kits in school everyday.

Regular PE sessions are: Tuesday morning swimming, and Wednesday afternoon. In addition to this Year 2 children will have Tai Chi lessons every Monday afternoon.

Year 2 homework will be handed out on Friday and should be handed back in on Wednesday. The homework will be based around what the children are learning in class that week and should take between 10 and 20 minutes. The idea is for the year 2 children to get used to the idea of homework before moving into KS2. It is better for your child to complete a small amount of homework well, for example writing one sentence well, rather than spending too much time on a piece.

Children's book bags may not be checked every day, so please remind your child to hand any letters / messages to their teacher or the office.

Reading - Year 1 books will be changed on a Monday, Wednesday and Friday. Year 2 books will be changed on a Tuesday and Thursday. Year 2 children will take two books home on a Thursday.

Spellings - every child has a set of spellings that build up to a collection of key words. Once they can spell all the words in the collection correctly, confidently and independently they will be awarded their spelling badge.
If you have any further questions please come in to see us or send a message in the home school diary.
The names of any phonics or reading schemes in operation used in Key Stage 1 are:
LETTERS AND SOUNDS in R/Y1/2 supported by Jolly Phonics/Oxford Reading Tree and various other schemes.
Please refer to the following videos for information on how to help your child with spellings:
Spellings: Alternative pronunciations
Spellings: Alternative spellings