Welcome to Reception!
Ready for School!
We hope you have all had a fantastic summer holiday and look forward to welcoming the new children who will be joining us in reception on Tuesday 4th September 2018.
TERM 1
Our topic this term is 'Down on the Farm'.
Week 1
We had great fun walking through Marksbury Village to the local farm. On the way we picked blackberries and later made apple and blackberry crumble.
Week 5
This week in Numeracy we looked at repeating patterns. We used weaving to show our understanding of repeating patterns.
Autumn walk
Reception class joined the rest of their school friends to walk across the fields of Marksbury and then back to the classroom for cake and hot chocolate.
A fabulous end to an enjoyable first term at school!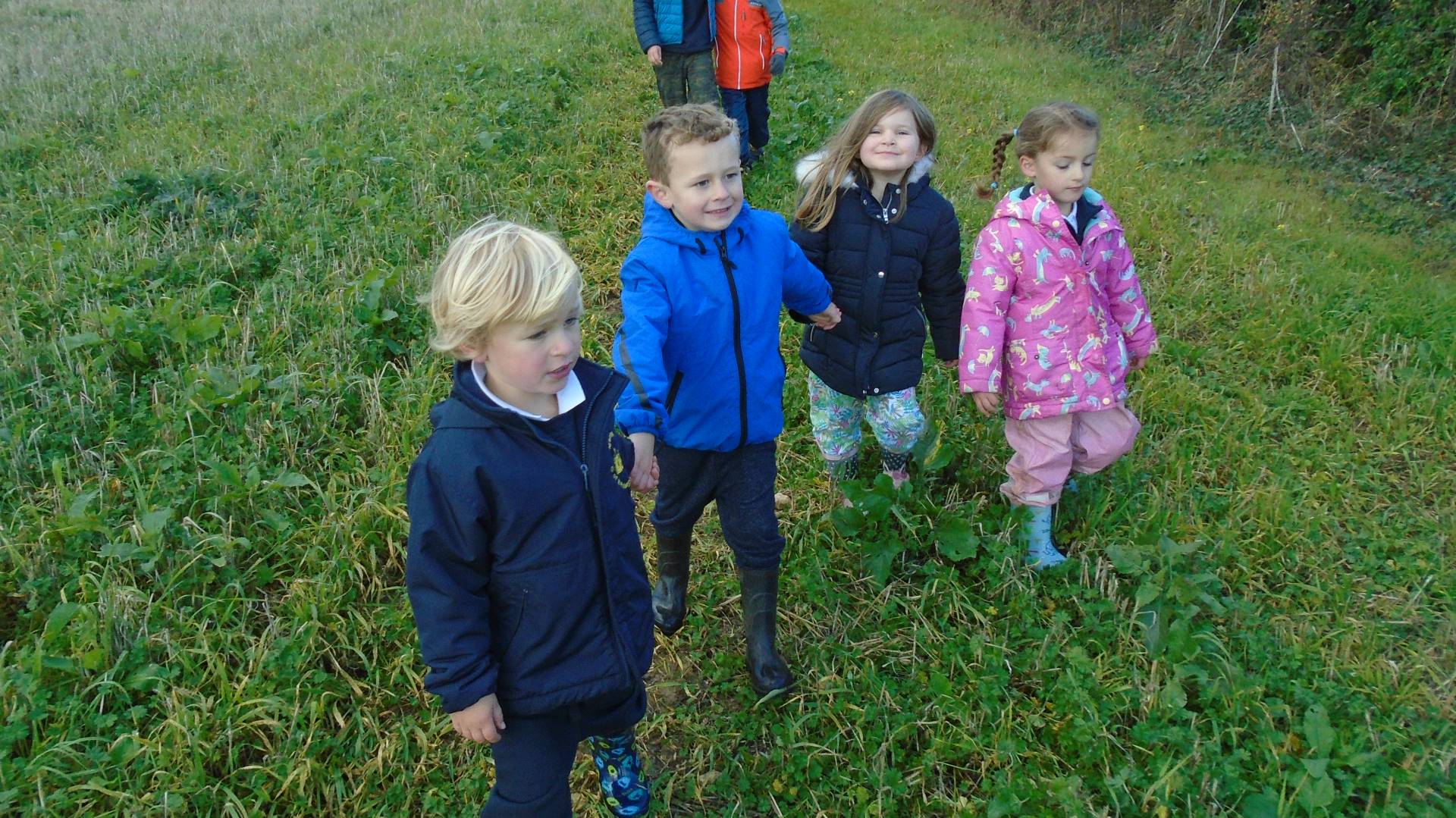 Well done Reception Class!
You have completed your first term at school!
TERM 2
FESTIVALS AND CELEBRATIONS
Week 1
The children thoroughly enjoyed their trip to St Peter's Church, Marksbury for Thursday Teas. After singing a song to introduce Term 2's topic they shared their firework paintings and models with parents and friends.

Firework shape poetry
Week 2
Remembrance Service. On Monday we asked the children to dress up in World War themed outfits to commemorate and remember.
Our text this week was Goldilocks and the Three Bears. In Literacy the children had great fun sequencing and retelling the story. They made porridge and thought about adjectives to describe the taste. In Numeracy the children used play dough to make large, middle sized and small objects. They then compared the weight of each object by using a balance scale.
Friday Challenge Time
Working together ...
The Three Bear's Cottage
Week 4
Such a great time was had by all on our Reception Class trip to Bath Abbey and Christmas Market. The children were experiencing the traditions and celebrations of Christmas.
Week 5
We concentrated on learning the names and properties of 2D and 3D shapes in maths this week. Exploring shape through play activities and also wrapping gifts to stock our role play Christmas post office.
Week 6
Well done Reception Class for an amazing Nativity performance in Marksbury Village Hall - photo to follow.
Today we talked about the Christmas story and put up our Nativity scene in the classroom.
Having fun during Dough Disco!
Using music, movement and play dough to strengthen the muscles in our fingers and hands to improve our fine motor skills.
Helping the children to improve their pencil grip.
Learning to measure length and height using cubes.
Festive sewing!
TERM 3
TRANSPORT
Welcoming visiting teachers from Nigeria
Maths - sequencing numbers to twenty.
Challenge Time - Learning to use a knife and fork correctly.
Expressive Arts and Design - making sea creatures
for our outdoor role play area.
Using papier mache to make a hot air balloon.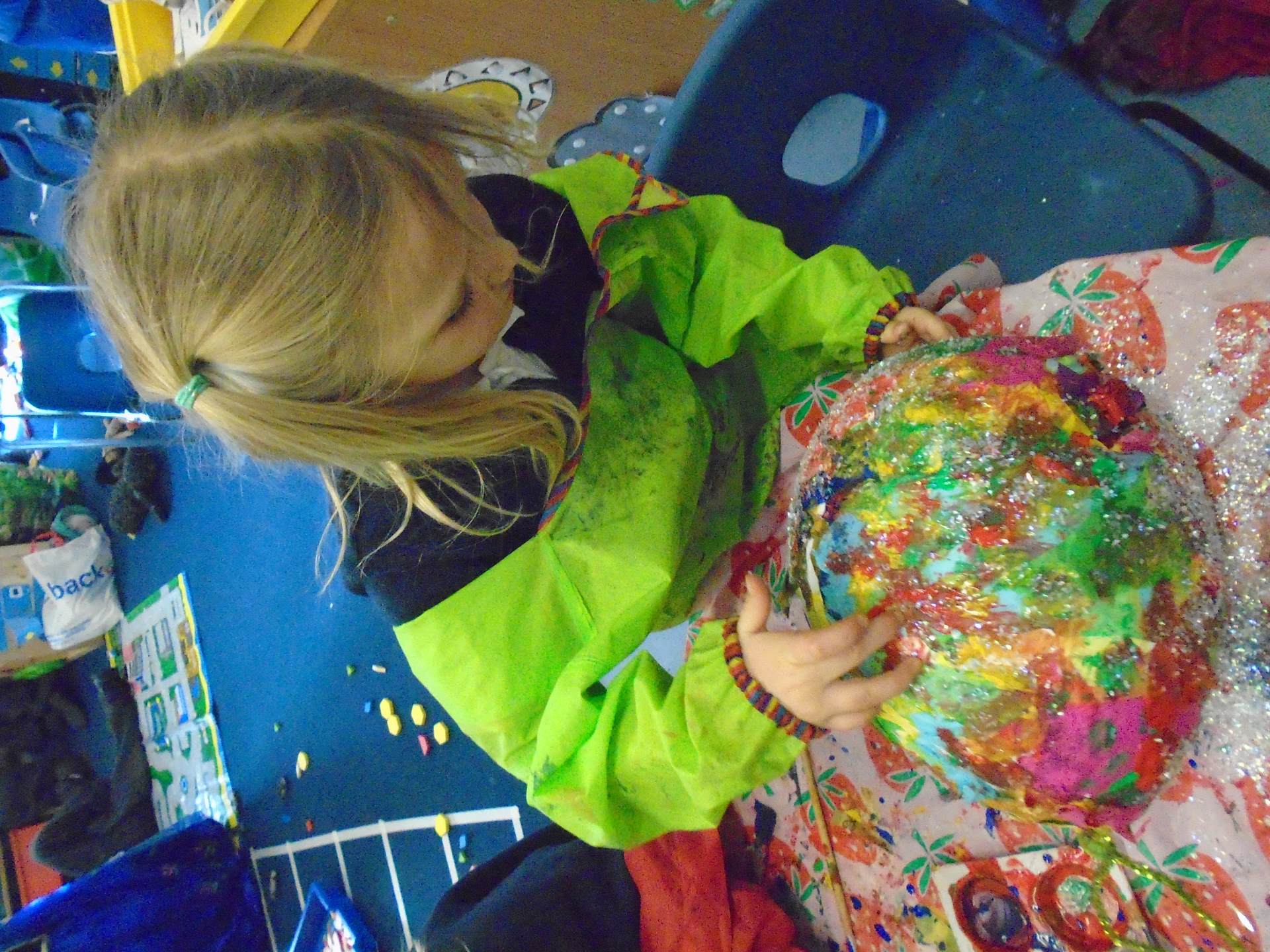 Phonics - practising writing vowels
Science - water to ice
Maths - collecting data using a pictogram.
A survey to find out the most popular colour of car
in Marksbury Village.
Challenge Time - paper aeroplanes
The children were encouraged to listen very carefully to instructions. Folding the paper was a little tricky but the children persevered until they completed the task. Well done everyone!
TERM 4
TOPIC: JOURNEYS
Week 1
A very productive first week back after the half term break!
The children were excited to be together again.
The milder weather allowed them to enjoy role play and other learning activities outdoors.
Week 2
This term's topic on journeys led us to a magical land. After sharing the text 'Where The Wild Things Are' by Maurice Sendak the children designed and made their own wild things using collage. During challenge time they made crowns so that they could be kings and queens for the day and made their very own rumpus!
Week 3
Learning about time.
How long is one minute?
What activities can you complete in one minute?
The children enjoyed practising their phonics this
week and writing sentences.
Well done everyone! You are making so much progress!
Week 4
Composing, reading and writing music.
The warmer weather allowed us to spend more time learning outdoors; discovering signs of Spring, investigating and discovering the properties of materials and lots of role play!
We love to write!
Easter fun!
TERM 5
Topic: How does your garden grow?
Please click here for topic overview.
Reception class would like to thank all the staff at The Pig for a fantastic opportunity to visit and learn about planting.
A visit to Noah's Ark Zoo Farm to learn about the food chain.
Maths - Shape, Space and Measure
The children enjoyed practising making symmetrical patterns and measuring the length of the playground equipment using their footprints.
Using technology in the classroom to help us with our understanding of plants.
When we have finished watering the plants .............
it is time for science ..........having fun at the water wall!
———————
————————————————————————

Important information:
• We will be going swimming on Tuesdays (w/b 18.09.18).
• PE lessons will be on Wednesday afternoons. Children will need to have their PE kits in school everyday.
If you have any further questions please come in to see us or send a message in the home school diary.